Dr. Deepika Buchupalli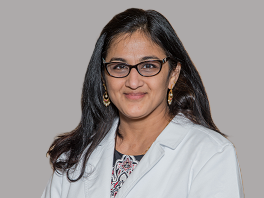 Deepika Buchupalli, MD, MS, is a graduate of Dr. M.G.R Medical University in Chennai, India. She has a Master's degree in Microbiology from the University of North Dakota Medical Sciences. She trained in Medicine in Resurrection Westlake Internal Medicine Residency program, and completed her fellowship in Infectious disease at Loyola University Medical Center in Illinois.
Dr. Buchupalli has been practicing since 2010 with Southwest Infectious Disease Associates. She goes to AMITA Saint Joseph Medical Center in Joliet and Silver Cross Hospital in New Lennox, both located in Illinois. Dr. Buchupalli specializes in the care of patients with Multi-drug resistant infections like MRSA (methicillin resistant Staphylococcus aureus, ESBL (extended spectrum beta-lactamases) and C diff (clostridium difficile). She has additional interests in wound care and infection control. Dr. Buchupalli is Board certified in Internal Medicine and Infectious disease.